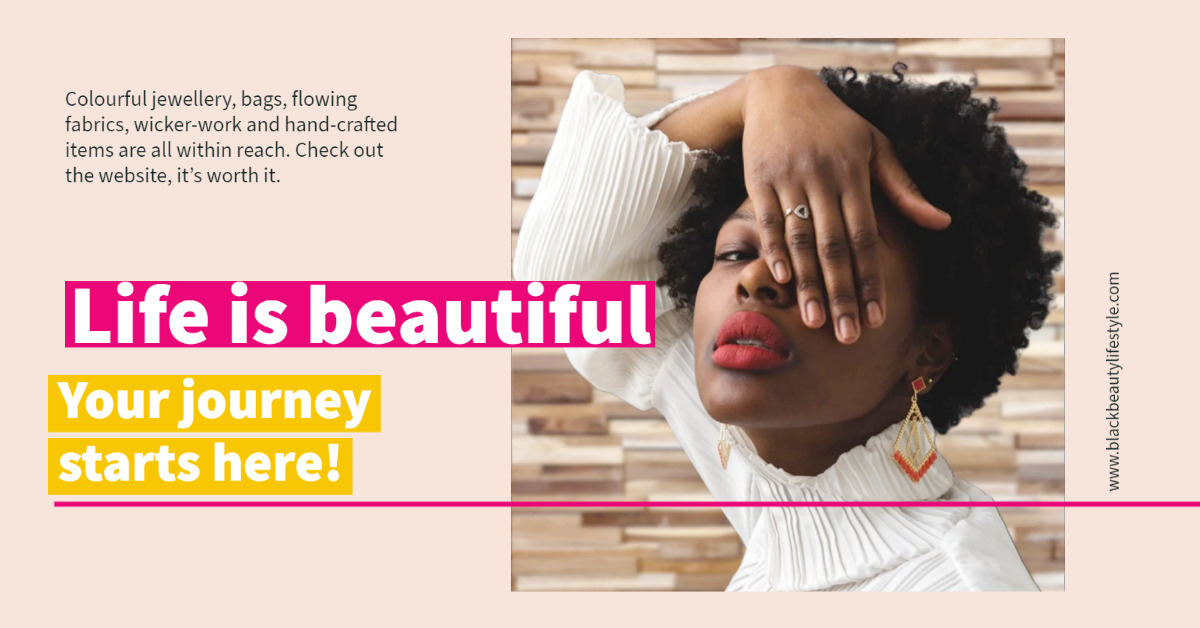 'Kenko | Black Beauty Lifestyle'
WEBSHOP FOR HANDMADE LIFESTYLE ITEMS
---

Welcome to Black Beauty Lifestyle - the webshop for handmade lifestyle articles!
At Black Beauty Lifestyle, everything revolves around unique and handmade products that tell a story. We are an international online store specializing in limited editions of beautiful jewelry, home accessories, and lifestyle articles, originating from Africa and South America.
Our passion for diverse cultures and their artistic backgrounds drives us to inspire you with our exceptional collection. In our webshop, called 'Kenko | Black Beauty Lifestyle,' you will find a range of handmade accessories for your home that you won't find anywhere else. Some of our products are even offered only once or have limited stock, allowing you to truly own something unique.
We take pride in our international orientation and aim to bring the world to your doorstep. Whether you are searching for a stunning necklace, a stylish bag, impressive woodwork, various accessories like headscarves, bonnets, and wraps, or are interested in braided artwork, you'll find it all at Black Beauty Lifestyle. Read more...
---
New in our online shop
AUREUS BRACELET - brown

THE AUREUS BRACELET comes from Gambia, Africa. A contemporary bracelet made of bamboo.

∙ Diameter approx. 6 cm
∙ Width: 4.5 cm

This bracelet has the color combination of light brown. Delicate, but suitable for everyday…

€ 9,95

Stole - blue and white

Stole - blue and white

The Chippewa stole has the color combination blue and white. A beautiful scarf that fits every occasion and feels comfortable.

∙ Labor intensive

NOTE: This product is art/craft and fragile. Caution in…

€ 69,95

COASTERS

COASTERS

These hand-woven coasters in the color combination brown-red-green are a traditional, artisan product and made by Indian craftsmen in Suriname.

The coasters are composed of reed. The technique of weaving these coasters…

€ 12,95

TABLECLOTH - Round - purple-white

ROUND TABLECLOTH

Cover your table with this beautifully decorated tablecloth in the color combination purple and white. Handmade by the Indian craftsmen in the Surinamese Amazon.

∙ Width: approx. 70 cm

A beautiful tablecloth…

€ 49,95

DAKOTA FRIENDSCHIP BRACELET - black-orange

THE DAKOTA FRIENDSHIP BRACELET comes from Gambia, Africa. A friendship bracelet for young and old.

∙ Diameter approx. 5-12 cm
∙ Width: 1,0 cm

This bracelet has the color combination of orange and black. Delicate, but…

€ 17,95

IRMANI Bracelet in orange-black

THE IRMANI BRACELET comes from Gambia, Africa.

∙ Diameter approx. 5-7 cm
∙ Width: 4.5 cm

This bracelet has the color combination of orange and black. Delicate, but suitable for everyday use. The bracelet is elastic and…

€ 22,95

Natural necklaces

Natural necklaces

Our necklaces are mainly made of natural products and they have a beautiful and stylish appearance. The necklaces sold by us are unique pieces and are made from botanical materials such as seeds, kernels and…